Oleg Kharlanov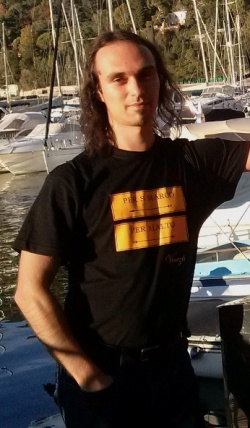 Oleg G. Kharlanov (born 25.10.1984 in Moscow). Graduated from Faculty of Physics, MSU in 2007; Ph.D. in theoretical physics in 2010 (thesis title «Quantum Field Theory Effects in the Standard Model Extension under External Conditions»). Assistant professor at Chair of Theoretical Physics (since 2010). Invited researcher at Institute Pprime (CNRS, Poitiers, France) in 2018.
Research interests.
Quantum effects in external or self-consistent fields; numerical-analytical and multiscale methodologies and high-performance computing for problems arising in theoretical physics. Applications include:
Lorentz violation, Casimir effect;
neutrino oscillations (incl. simulation of collective neutrino oscillations);
charge transport in materials with strong electron-phonon interaction used in organic electronics (theory and multiscale modelling);
flame front propagation (novel numerical and numerical-analytical approaches).
Teaching
(at the moment)
Advanced Classical Solutions in Field Theory [in Russian];
Bachelor-level courses Field theory and Scientific programming (the latter together with Alex Novoselov) at Chair of Quantum Statistics and Field Theory;
Lectures and recitation classes in theoretical physics at Faculty of Mechanics and Mathematics (in Russian, together with prof. Anatoly Borisov).
Currently supervising one master's and one bachelor's students.